BIOSPHERIC PERFORMANCE-  Emma Westmacott
"There is little point strengthening your body with gym or fitness workouts if the structure and basis of your body is weak and out of alignment. It's like building another storey on top of a house with bad foundations", says Emma Westmacott of Biospheric Performance. And with a CV as impressive as Emma's, you can take her word for it.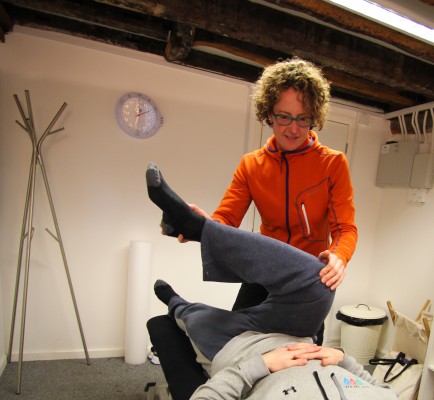 Emma understands the demands of sports both on a professional and a personal level. She has been a professional sailor for 30 years. Her achievements include three around the world race challenges, the Volvo Ocean Race, the Whitbread around the world, and a nonstop around the world record attempt called the Jules Verne – in all of these she was a watch leader/person in charge on deck and in many she managed the team fitness. She began as a skipper of private yachts running their programs and during these around the world campaigns, set up Biospheric Performance as a personal fitness and biomechanics consultant.
Alongside the demands of elite level sport, Emma cemented her knowledge as a personal fitness coach by gaining professional qualifications as a Personal Trainer – enabling her to advise on fitness and nutrition, a Pilates Instructor, as well as a UKBCA Biomechanics Coach and Gravity Trainer (a similar device to the pilates reformer – fantastic for enabling symmetry and control in the core and limbs). In addition her passion in athlete performance led her to understand the motivation and drive that takes people to the next stage in their life and sport by qualifying as a Master Practitioner in ABNLP and Hypnotherapy, giving her the ideal tools to work on her clients positive mental wellbeing and psychology. Therefore drawing the mind and body connection together.
Her client list includes athletes, such as Dame Ellen McArthur and Olympians from various sports, but now predominantly riders and just normal people looking to improve their quality of life, performance and avoid as well as return from injury. Ideally Her approach starts from a structural basis, assessing posture, balance and weak areas. Then working out a tailor-made program to help people be their best self and avoid injuries. However, there is a bit more to Emma's service than you might expect from your regular therapist, physio or biomechanics expert.
"There is a difference in what I do, in that I take an all-round approach to fitness. I usually start by lying someone on a massage bed to assess them- looking at the whole body – feet, knees, hips, back, shoulders, neck. With riders, I like to see them on a horse if possible, either in life or at least in video."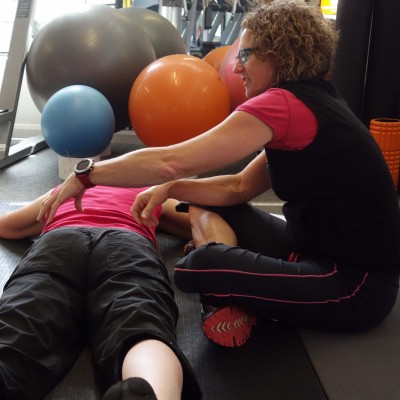 Emma then uses her wealth of experience and knowledge and a number of her many "tools of the trade". With her extensive training in Biomechanics, she assesses alignment and symmetry, looking for potential areas of limitation and establishing if restrictions are bone/soft tissue or neurological issues. She uses both a passive (lying and standing still) and an active assessment of the person moving before mobilising and often manually stretching the body.
The process then involves designing a first "getting into a neutral position regime" followed by stabilizing and then strength orientated exercise program to make a lasting difference. She offers personal training as well as Pilates Instruction on a short or long-term basis.
"There are heaps of online courses and apps out there and yes you can make some changes if you follow them religiously, but you are never going to get life-changing result" Emma states. "Posture is not just about standing up straight, it is vital for better performance and preventing injury. If your body is aligned in every angle, you will be stronger and more powerful in whatever you do. I am trying to give people a tool box for life so that they exercise in a way that stabilises and strengthens the body for the long term."
" There are also many people and practitioners from all levels giving out exercises – but doing 20 "step ups" a day or 20 pilates "hip openers" is not going to combat the 20,000 steps that someone does poo picking and moving around with their horses in correctly (put another way 60 min classes or work outs will not combat the 16 hours people are awake moving incorrectly) – all exercise will be absorbed to change action to some extent but most people actually need the movement of everyday actions broken down and built back up "
With her philosophy of looking at the whole athlete, Emma also provides sports psychology and consultation to help her clients get over mental hang-ups and works on focus and motivation, whatever their goals may be.
Based on the South Coast, Emma works from home as well as a centre in Winchester, but she also visits clients in their homes. She is available for group sessions and workshops as well as one-to-one. Ideal for riding clubs and Pony clubs.
Her prices are very competitive she gives discounts for block and group bookings
Read more about Emma on her Horse Scout profile
https://www.horsescout.com/professionals/emma-westmacott/profile/1405
Written by Ellie Kelly