With the summer season quickly approaching, we caught up with Horse Scout Advocate and Dressage rider Shaun Mandy to find out what his plans are for the year ahead. We found out why he says putting the work in at home is so vital to getting the results in the ring and received some useful tips to help you achieve your 2020 goals.
Shaun as a coach, offers his clients a bespoke and professional coaching system to work with horses and riders of any level to help them achieve their objectives across multi-disciplines. No two horses or riders are the same, so he works on a flexible approach, tailor-made to suit both horse and rider. He is doing his British Dressage Level 2 in coaching this year followed by Level 3.
What are your main goals and ambitions for 2020?
My ultimate goal for 2020 would be to get onto the Grand Prix circuit. However, I have yet to sit down with the calendar and plan shows for this year. I will be going to the premiere leagues and high profile shows, but I will be more focused on securing the work and getting the training time in at home. My horse will be stepping up a level this year, so it is important to concentrate on his way of going at home and executing the movements to the best of our ability. This way, we will be able to confidently progress to Grand Prix throughout the year, hopefully resulting in getting the judges scores in the ring. In order to achieve this, I will set lots of shorter term, more achievable goals throughout the year. I will be judging how my horse is coping with these goals, and once I am happy with how he is going, look towards the next.
Tell us a bit more about your top horse…
My top horse, Euphoria E, is a lovely gelding by Carl Hester's Uthopia out of a Sandro Hit mare. I acquired the ride on him as a six year old competing at Elementary level before later buying him. I currently have a small syndicate of owners for him and would be looking for a couple of new owners this year. Over the past five years I have produced him through the levels, this year we will be competing at Inter II and hopefully Grand Prix. He is the first horse that I will have produced through the levels and I am so grateful for the experience I have gained through training the horse myself. Yes, it would have been lovely to have been given a ready-made Grand Prix horse to ride, but although it has been challenging, I have come to appreciate the journey for what it has taught me. Saying that, all progress has been solely thanks to the fantastic training I have received from my coaches. Euphoria has been a real learning curve to produce. He is a lovely gentle horse who you would never want to shout at due to his shy character. He is, however, a bit of a silent stressor so I have had to really focus on quietly and confidently bringing him on, knowing that his talent may not have always been reflected in his scores as a young horse. Over the past year or so as he has started to step up to a higher level and has really started to come into his own as if to say, 'I have arrived, this is what I have been waiting for'.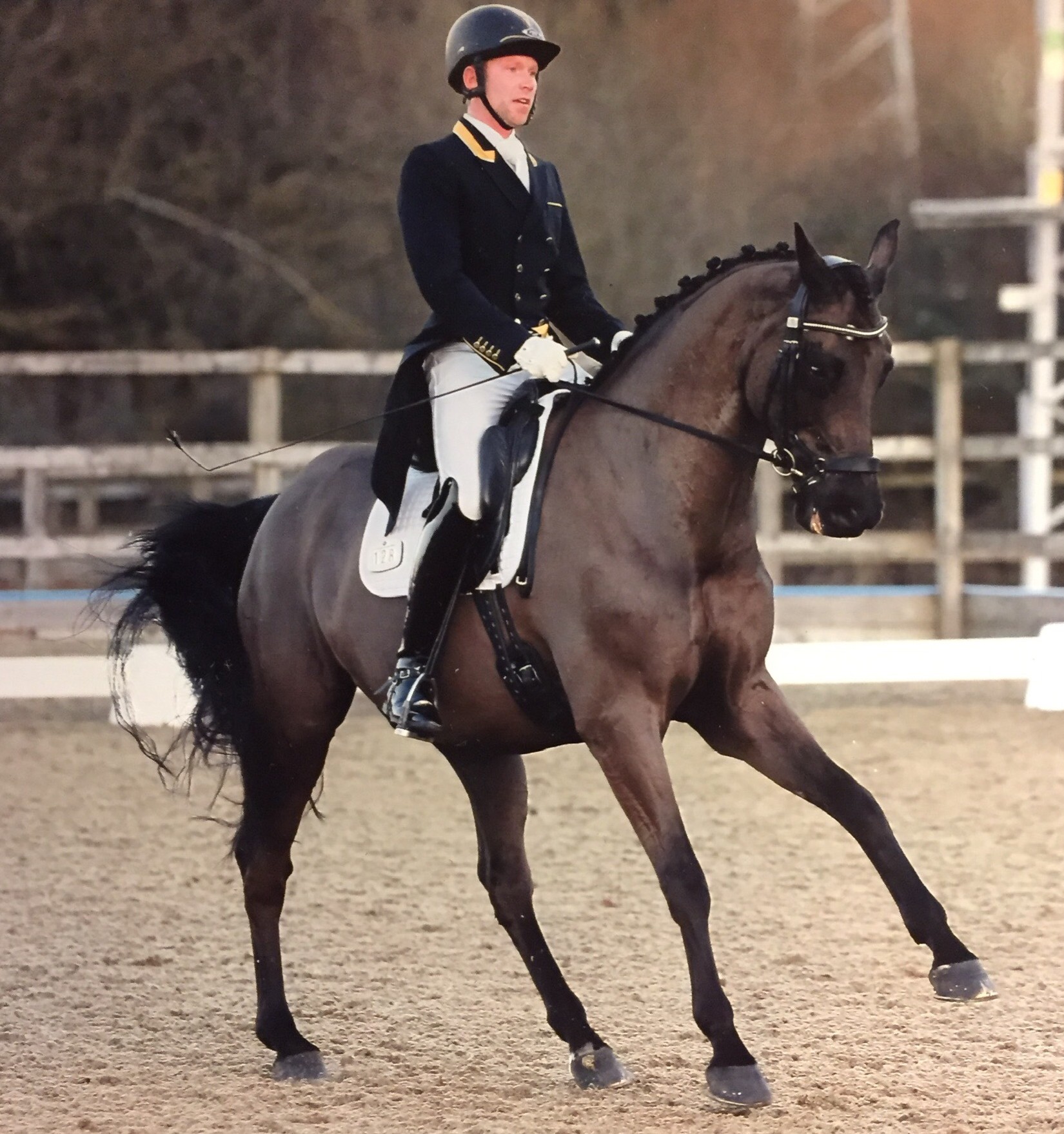 What would you say your career highlight has been to date?
I'm sure so many riders would have highlights that are purely results based, but for me, my career highlight has to be getting into Carl Hester's Diary to train! Learning from the best riders possible has always been so important to me and Carl is someone that I have always longed to train with. I am extremely lucky to be able to learn from a rider of his calibre, as I feel that studying other riders and absorbing their knowledge is the only way you can improve, and who better to learn from then Carl himself? I am also incredibly lucky to be based with Matt Hicks and also train with him on a weekly basis, he has been fantastic and has really helped me to get to the level I am at today.
Do you have any top tips for training your horse?
1 – Patience is key! Never lose your temper with your horse, if he doesn't understand what you are asking of him, think to yourself 'How can I re-word this to help him understand what I want.' If you find yourself getting frustrated, just jump off and put your horse back in his stable, there is no harm in coming back with a fresh approach the following day.
2 – Education, find a good trainer and put the work in at home. There is no rush to get out to a show, get your foundations right and build on them.
3 – Stay humble. Never think you know it all, there is always something you can improve on or try to work on at home. I remember when I first left home to train in Denmark, I honestly thought I was a decent rider. I had a real shock when I got there and saw how talented the other riders were and thought I can't ride at all! But I think it was at this point that I realised that these riders that I am looking up to, will have other riders that they aspire to ride as well as and so on. I learnt how important it is to get your head down and keep learning your craft. Training is still so vital to me now, but it's not only at home you can pick new things up, sometimes I'm in the collecting ring and see another rider warming their horse in and think, I need to try that!
Is there any horse that you wish you had in your stable?
There are the obvious greats like Valegro, I doubt there is a dressage rider in the world who wouldn't love to ride a horse like that. But I honestly feel that every horse comes to you exactly the right time for you. I don't think I would trade my horse for another at all. The journey that we have been on and everything that he has taught me, this has made me the rider I am today.
How important is training to you?
I can't stress enough how quality coaching and training is key to progressing as a rider. The training that I have had along the way with Matt and now Carl has really developed and formed me not only into the rider that I am but also the trainer. It's given me the tools in my kit to use and help others. The more that I can evolve as a rider and understand the sport, the more I can pass my knowledge on to those that I teach. My training hasn't stopped just because I have got to Grand Prix level, if anything, I am now training harder than I ever have done before, it really is a never-ending cycle. Stay humble, stay focused on your goals and constantly learn from one another.