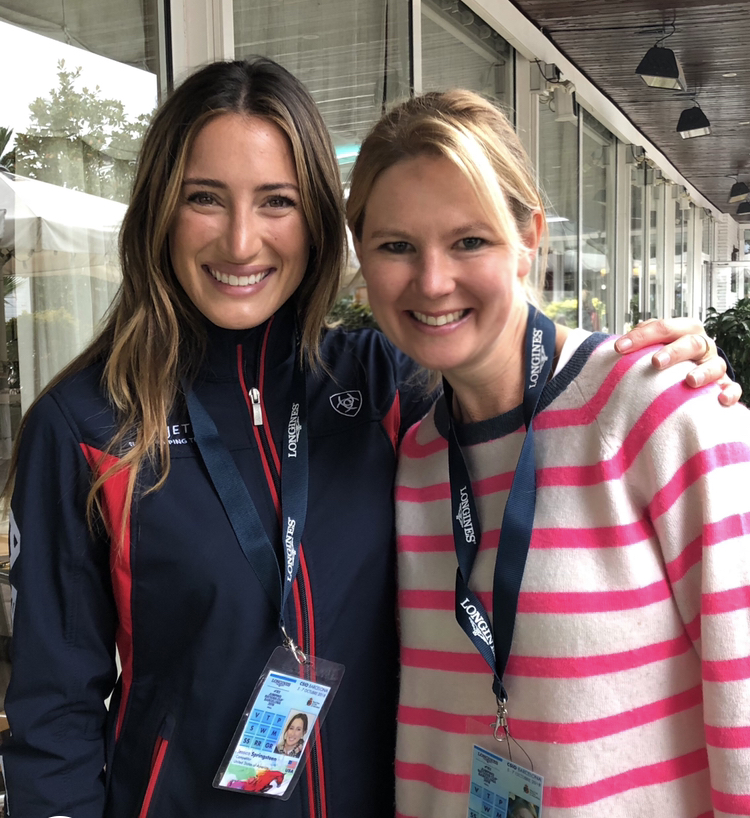 I was lucky enough to be reporting at the Longines FEI Nations Cup Final In Barcelona last week. Not only was there great sporting action, a masterful display of horsemanship and a tantalising finish. Beyond this, there were some high profile individuals and interesting back-stories that really highlighted what a special sport this is.
Having breakfast in the hotel one morning I was sat next to Jessica Springsteen. The drop-dead gorgeous daughter of Bruce was looking very much in love with boyfriend, Italian heartthrob Lorenzo de Luca, as she ate her boiled egg.  Lorenzo was later caught buying his girl a present in the shopping village.
Across the room was World No 1, Harrie with the rest of the Dutch team and World No 2 Mclain Ward, fresh from winning team gold at WEG. Mclain was over to train 19-year-old showjumping sensation; Lucy Deslauriers who was making her first big team appearance for the USA. Extraordinarily Lucy's father Mario was also competing but for his homeland of Canada. Now 53 years of age, Mario was the youngest ever winner of a World Cup Final at the age of 19 and he and his daughter could make headlines if they both achieve their dreams of being selected for the Tokyo Olympics, for their respective Nations.
Also competing at the show were the UAE team who are rising stars. After a fascinating interview, I discovered every one of them has a full-time job and compete just a handful of horses alongside this. Jobs included a policeman, an office administrator and a camel trainer.  "Football is the only professional sport but we are trying to change that" I was told.
"Never give up" was the take away message from this year's prestigious competition. Held in the popular Real Club de Polo in Barcelona for the sixth year in a row, it was the Belgians who won the oldest jumping competition in the world and lifted the Nations Cup trophy. But it was by no means decisive and Peter Weinberg, Chef d'Equipe of the team summed up the result and in that, the very nature of equestrian sport. "We call ourselves the "Never Give Up Team" because in the middle we had two with 12 faults already but still we were fighting to the last rider, so this victory means a lot to us!"
With one of the most challenging tracks this final has seen, of the eight nations who went through to the final, just three riders jumped clear. It is hardly surprising that Course Designer Santiago Varela has been selected as course designer for the Tokyo 2020 Olympic Games. The track was imposing and technical and questioned control, balance, judgement and skill, all the way around. As Varela pointed out it wasn't about the number of faults the riders collected. "A score of 8 or 12 didn't mean they had a bad round, horses jumped unbelievably, but the course was difficult, tough and big…and everything was connected", he explained.
As was the case with most of the teams, the Belgians had mixed fortunes, Niels Bruynseels gave the team confidence with a superb clear from Gancia de Muze but both Pieter Devos (Claire Z) and Jos Verlooy (Caracas) each leaving three fences on the floor. However, it was the dashing Nicola Philippaerts, who saved the day with a sublime clear round on H&M Harley v. Bisschop and that sealed the deal.
Nicola said his teammates told him "everything is still possible" when he was last to go. "I just tried to ride my own class and it worked out well – today it was me that could make the clear round that would make a difference, and another time it will be one of the others". And he had even more reason to be pleased when sharing the €100,000 bonus for double-clear performances with team-mate Bruynseels, Sweden's Peder Fredricson and Italy's new star, Riccardo Pisani.
This was Belgium's second win of the Longines FEI Nations Cup in Barcelona; their last came in 2015. As Chef d'Equipe Weinberg said: "it was an interesting day, first ups and then in between downs, but in the end, we won anyway so it was really great sport!"