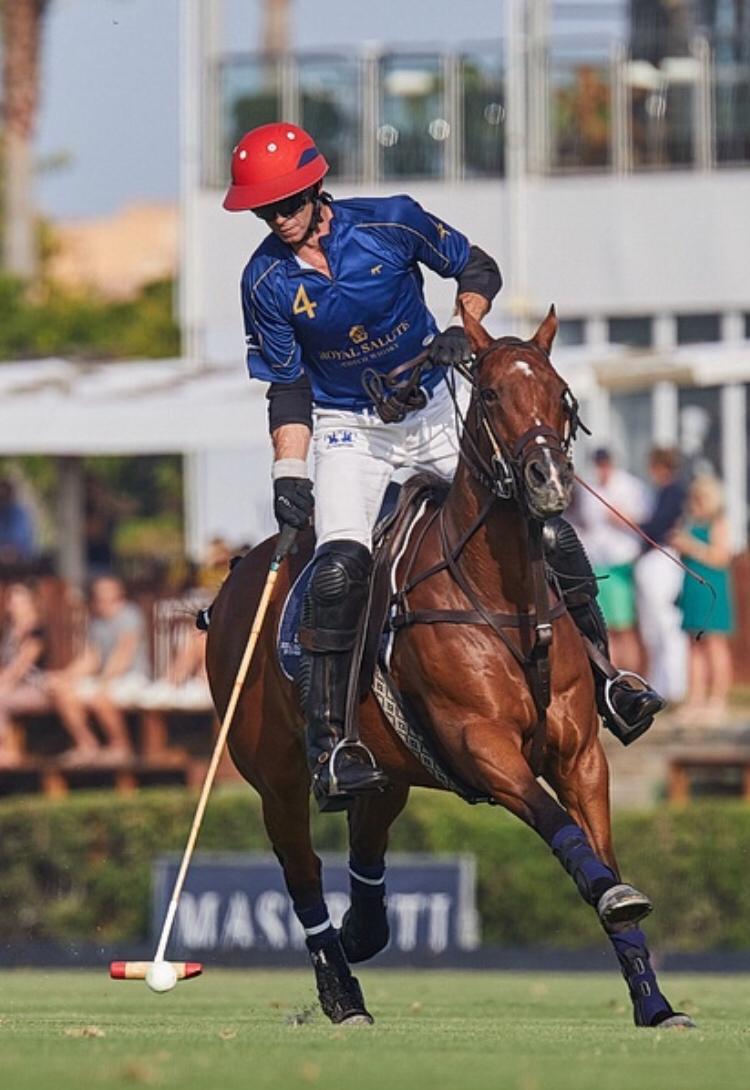 We are excited to welcome professional polo player and global ambassador Malcolm Borwick to the Horse Scout network. With over 50 caps for the England team to his name and player contracts for teams in USA, Argentina, South Africa, Spain, France as well as the UK, his life and career has been a richly varied one since turning professional at the age of 18. Equestrian Journalist Ellie from HorsescoutPR.com team caught up with the 42 year old at the International Polo Club in Palm Beach.
Malcolm comes from a long line of polo enthusiasts. His great grandfather was a contender for the prestigious Westchester Cup in 1902 and his grandmother played in the first ever women's test match in 1924
Much of Malcolm's time is taken up as a polo ambassador for a number of brands and organisations, but he still plays at the top end of the sport and plays off a 6 goal handicap. His life has been a unique and thrilling adventure, involving globetrotting to polo hot spots and playing in some of the most significant polo events.
As well as supporting the brands he is involved with and helping to try and grow the sport with his enthusiasm. His wife Alexandra and three young children- Ines, Jaime and Lucas are lucky enough to join the ride. They travel the world as a polo family and the children are educated at local schools in each country, speaking both English and Spanish fluently.
Where did it all start? 
I was born in Hampshire but grew up in Northamptonshire. As a child I did everything- hunting, jumping team chasing and Pony Club until I was 10. Then I started playing Pony Club polo at 10 and that took over as my main focus.
Why polo?
It's the sum of all sports. I played cricket, tennis, rugby, golf growing up. You add in a horse and the dynamic nature of the sport of polo, team mates, the complexity of the sport, the adrenalin, the opportunities for travel. It encapsulates what you would want out of every single sport. The interesting thing about polo is you can never have the perfect day. I'm good friends with a guy who has the record for the number of goals scored in the most difficult competition in the world. Even he says he wished he's scored that extra shot and he scored 17 goals that day. I think that keeps you striving for success.
As a global polo ambassador, which brands and organisations are you involved with? 
Piaget, Maserati, Royal Salute Scotch Whiskey, La Martina are the main ones. I have come to Palm Beach to be a global ambassador for the International Polo Club. It is quite simply the best polo club in the world and has all the makings and positioning to be the power house not just in North America but in World Polo.
Reflecting on your life and career as a polo player, what have been the highlights? 
As a child, my aspiration as to put on an England shirt. I played a lot of cricket before I played polo. Back then, if you had given me the choice between walking on to the pitch at Lords and playing Test cricket or playing polo, I might have said Test cricket. But putting on my England polo shirt for the first time was a very special day. Then winning the Coronation Cup three times during the peak of my career, they are great memories.
Rumour has it you are friends with the Royals and went to Prince Harry's wedding?
I have been very lucky to be involved with the Royal Family. I'm not even sure how I stumbled into it. I ended up playing an awful lot of polo with Prince William and Harry over the last 15 years so we have a great relationship. I have been lucky enough to play with them at all their charitable events and we have raised millions for their charities.
What is going on at the moment for you and what is on the horizon?
I am heavily involved with Gladiator Polo right now. It's a new concept in the sport. It takes place in a much smaller arena so the audience are up really close. It is different from normal polo- three a side rather than four. There will be no amateur or patron playing so all the players will be professionals. This will make it very fast and furious and it's a shorter format and shorter chukkas. The sponsorship will be much more mainstream than luxury- brands like Coca Cola and Mars.
We want the audience to interact and engage with the sport and become followers. We would love more people to take up the sport and this is casting the net wide and trying to find as many more interested people to either just enjoy watching or get involved.