Laura Renwick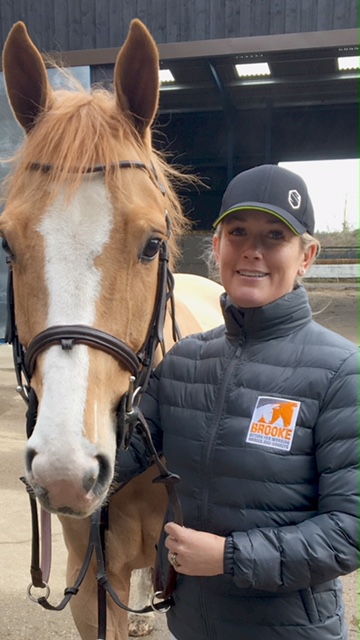 Laura Renwick has retained her position of leading British female rider for a number of years. She is certainly one of the busiest riders on the circuit and admits to sometimes competing more than 10 horses in a day. Perhaps surprisingly, Laura only started competing seriously at 26.  We caught up with the 44 year old at the Equerry Bolesworth International Horse Show, to hear her story and find out what the season holds.
"I've got two top horses. Top Dollar VI has more ability than he has ever going to need but the rideability is always going to be a bit iffy so I have ruled myself out of selection for the World Equestrian Games this year but I am looking more towards the Olympics" she explains.
"I'm a bit short on top Grand Prix horsepower but we started breeding from some of my competition mares a few years ago and they are just starting to come through. So I've got some really promising young ones and hopefully this time next year, some of them will have reached fruition."
Laura is married to former elite show jumper John Renwick, who gave up the sport in 2002 to focus on supporting his wife. She juggles competing all over the world with running the equestrian business and being a mother to son, Jack.
Amazingly it wasn't until after the birth of her son that she started to make a name for herself as a rider. For many women, having children can force competitive sport to the back seat. Quite the opposite has happened for Laura, whose sporting career really started to take off after childbirth.
Introduced to horses by her mother, who owned a riding school, Laura was successful in show jumping from the age of 11. Prophetically, she bought her first jumping pony from John, her future husband.
At the age of 18, she questioned whether she wanted to make a career out of it and gave up competing for several years. "I was lucky that my parents supported me up to 18 but then but then I had to go it alone. This sport is tough, especially for anyone starting out and trying to support themselves. At the time I thought I should try something else.
Her sabbatical included being a flight attendant for BA and living in Spain. "If I had my time again I would have stuck at show jumping because it really is in my blood. That's why I came back to it all these years later."
Laura returned to the sport at the age of 25. She bought a young horse, which meant starting again from the beginning. Soon after, she met her husband on the competition circuit. To begin with it was purely a business partnership but it later evolved into marriage and parenthood.
"We bought some young horses together and in the early days whilst John was still riding at the top international competitions, I was producing the young horses. These are the horses that I am still riding now so it's all been a working progress, we've learnt together. I think that's why I have such a strong bond with our horses; we know each other inside out."
As well as her training skills and empathy with horses, Laura is renowned for her fearless, competitive spirit. On a good horse, she would be hard to beat against the clock and has won a number of Puissance competitions. She won the prestigious Olympia Puissance last year, clearing 7ft on Top Dollar VI
A combination of skill, poise and style has garnered her sponsorship and she even took part in a risqué photography shoot to promote British show jumping. "It was a laugh and done to raise the sport's profile, but I probably wouldn't do anything like it again."
This year Laura was asked to be show jumping ambassador for The Brooke charity's "Every Horse Remembered" Campaign. I'm delighted to start my official support for Brooke as an Every Horse Remembered Ambassador. I'm looking forward to representing the campaign for Brooke in the British Show jumping scene" she said. "Horses have worked side by side with people for centuries, not least in the First world War. It's vital that we remember the sacrifice they gave.
In order to stay in the game at this level, she and her husband have to be commercially minded. "We breed horses, train them and sell them, even some we would like to keep. John handles most of the business side of things now. He had a lot of injuries which is why I had to up my game and focus on competing."
"We still have to make a living from it. Prize money in showjumping has gone through the roof, compared to what it used to be but you still have to have the horsepower to be at those shows with that prize money. You need to have a pool of Grand Prix horses to compete regularly at that level and the top riders have that luxury. So until you're in that sort of league, you do still have to make your money where you can, so our horses are always for sale."
Laura does not seem fussed that son Jack is more interested in football. "He can ride but has no interest in competing" she says. "I enjoy taking him to football training and have told him to work hard at it so he can look after us in our old age."
The future looks bright for Laura and she hopes to consolidate her performance next season and "just keep enjoying it" she adds. Does she dare dream of future medals and team selection? "My top horse Top Dollar is more than capable. It's just about hitting the form at the right time" she says.
Written by Ellie Kelly