Tina Cook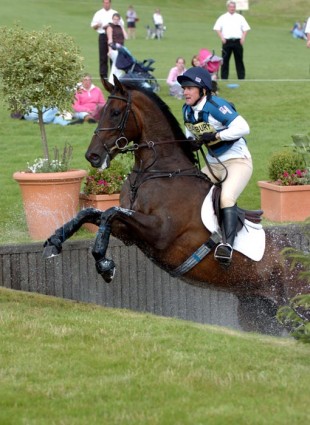 Tina Cook is one of Britain's most successful event riders and has been a mainstay on Team GB since the early 1990's. She is a three-time Olympic medallist, winning individual and team bronze in 2008 and team silver in London 2012 as well as winning a further 11 medals at World and European Championships. She was part of the gold medal winning team at last year's European Championships with Billy the Red.
Surprisingly, Tina reveals that some of her best horses have seemed "fairly average" as young horses. The good news is for us budding event riders is that Tina believes that you do not need to start with a massive budget to find a suitable event horse, even if have big ambitions. "In my experience it's all about having a horse with a good brain" she says. "Then by creating a trusting partnership and having good management as I have done with all my top horses, look at where it can get you."
When I look back on my top horses they have not necessarily been the most outstanding young horses, but what they have all had in common is that they have had a trainable, competitive brain and an attitude to want to please me."
Buying British and buying blood.
Tina has never felt the need to look abroad and has bought the majority of her horses in the UK. Many have come from bloodstock sales or via her brother, the well -known racehorse trainer Nick Gifford.  "I rarely go out and look to buy horses, they tend to find me, but when I do, I have always leaned towards Thoroughbreds. As I am looking for championship and potential four star horses, the more thoroughbred blood the better, and certainly nothing less than 60% blood. It is also the brain I am used to working with so it suits me best.
The blood horses may be more average in their movement but they tend to stay sounder due to their movement being more economical and effortless. I look for an easy action when they are cantering and they must be able to travel between fences. When a horse finds galloping and stamina easy, it's not only one less thing you have to teach them and work on, but they are the ones that find the extra gear to get themselves out of trouble, even when they are tired. It is when horses are tired that injuries happen."
Less is more
"We are lucky in eventing because in many cases, it's Mr Average who can make it to the top, in a way that probably isn't possible in dressage or show-jumping where scope and movement is vital.
There have been many times in my 30 year career, when I have had flashy moving horses with huge scope and I've thought it was my next Olympic horse but then they have never stayed sound or proved too be difficult to produce for eventing.
I see this a lot with Junior riders. They have a taste of championship level and with some money behind them, they think they need something that looks flashy and throws a big jump. But these horses are more difficult to ride because they are bigger and rangier and use more effort.
Through my career, I haven't had big money to spend and it's been a case of making the best of what I've got. Smithstown Lad was a 16 hand hunter hireling from Ireland. Together we were on the Junior and Young Rider teams, he took me to my first Badminton and finished 4th at Burghley.
Even Miners Frolic as a young horse had a very "Thoroughbred" technique over a fence and he was naturally the bravest, but he had a lovely attitude. So we had to work on trust and technique. Then Star Witness was a racing reject and I never thought he would make a four-star horse. But he has always tried his heart out. He has now done four, four-stars with a top ten placing in every one."
I have produced almost all of mine from scratch. Until I got to my 40s and some owners wanted to buy something to go to the Olympics so we found Billy the Red through an agent. This was the first time I have ever done this and was the first I have ridden with eventing form, as he had done a few Intermediates.
"It is definitely important and I am a big believer in "no foot, no horse". I have had horses with bad feet and they can stay sound if managed very carefully. When buying, I wouldn't necessarily dismiss poor conformation or weakness if I liked everything else. A lot of my horses have had issues and I have found a way to keep them on track through the levels. It's partly because I have not had lots to spend but also because I am stubborn. If a horse has some talent and a good attitude and I see them improving, that really excites me and I want to keep going, even if they do face physical challenges."
Producing the Prize
Tina notes that however talented a horse, there is no substitution for good horsemanship. "Yes, everybody has upped their game, but I believe success comes more from the right training and good management more than relying on exceptionally talented horses. Look at Michael Jung. He turned both Sam and Fischer Rocana from glorified Young Rider horses into four-star winners.
I am very strict with making sure they are really established at one level before I move up to the next, even if that means spending more than a season before you step up. They don't always have to be jumping big fences and going flat out to get the time in every event. Very few horses can cope with that both mentally and physically on every occasion. So I save that for when it really matters.
The most important thing is that horses enjoy it. It never works to bully a horse into doing something, they will eventually become unstuck because they won't trust their rider. They have to want to please me rather than be frightened."
Kit that powers Tina's success
We always want to know what the latest "tack trends" plus the brands favoured by professionals. So here are Tina's top choices:
"All my horses have been fed on Red Mills feed for years now and my brother Nick has all his racehorses on it too.
I ride in Voltaire saddles and virtually live in my Ariat boots and Gatehouse hat. For the horses I use Prolite boots for every day and competition, and as my horses spend a lot of time in the field we have plenty of rugs from Jumpers Horseline."
Written by Ellie Kelly