---
Mollie Summerland is the name on everyone's lips right now. That's because the relatively unknown 23 year old has just become the youngest ever winner of a CCI5*, when she led from start to finish at Luhmuhlen last week.
Speaking after her show jumping round Mollie said "I don't ever want this day to end, It's been the most amazing experience. The first people I want to thank are the organisers. With all the things going on in the world right now, it's amazing what you have achieved. It's hard to sum up how I feel right now, but this horse has changed my life."
---
She came to the event without a coach and navigated huge logistical hurdles to get there because of a German ban on travelers from the U.K. due to the ongoing COVID-19 pandemic.
"I would rather have ridden dressage or cross-country again," she said. "I don't feel so experienced in show jumping and was a little nervous, but my horse is simply amazing. I've never won a three-day-event, that's something I used to dream about." It was only Mollie's second 5 star, having finished 10th at Pau in 2020.
---
Mike Etherington-Smith's cross-country proved to be very influential. Fifteen of 24 starters completed. (The original entry list of more than 70 was decimated by a mass withdrawal of British riders due to the German travel restrictions.) Four riders finished clear within the time allowed. Mollie was one of them, hanging onto her dressage lead.
---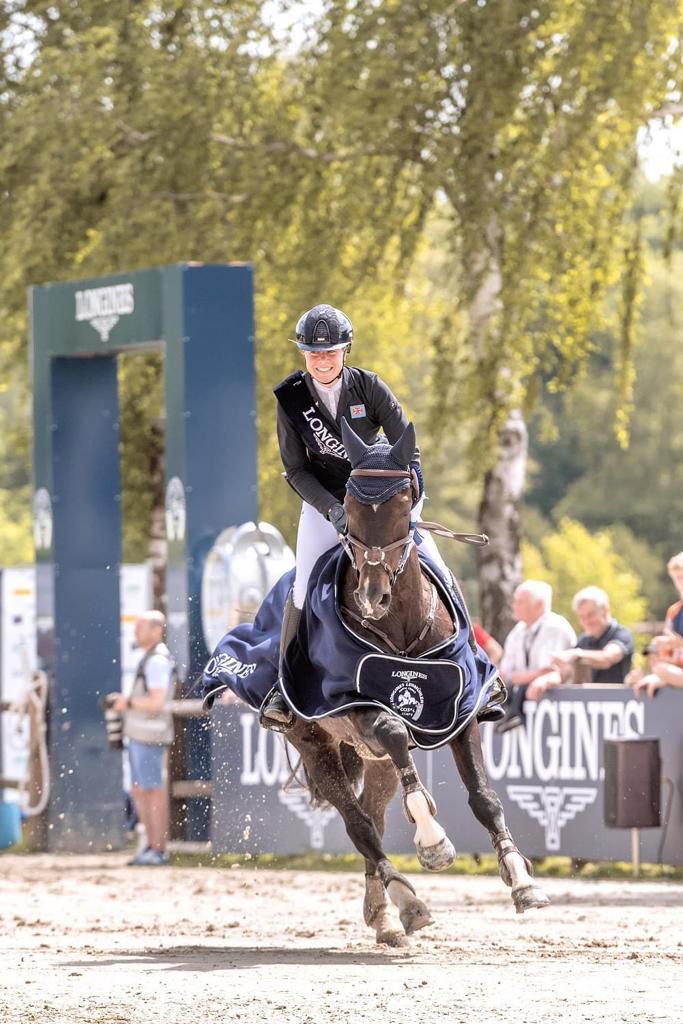 ---
Horse Scout caught up with Mollie to find out more:
---
Now you've had time to let it all sink in, how would you sum up that winning feeling?
I find it so difficult to put it into words. I am sitting here trying to write a post about it all and I don't know what to say. It was truly special though.
What were your expectations?
I wanted to get another 5 * under my belt. There was part of me that wanted another top 10 finish but really I wanted a bit more mileage. So to win it was totally unexpected.
How did you feel before going into the show-jumping, knowing you didn't have a fence in hand?
I was pretty nervous. It has always been the weaker phase for both of us and don't have much confidence. I have started training with Jay Halim. Consistency with trainers really helps and I have never got into a proper system with one trainer before I started using Jay.
I videoed the show jumping and sent it to Jay on Sunday morning. He believes that the goal for the show jumping warm up should be to send the horse in with confidence, he wants the rider to also believe in themselves before they go in. Fine tuning things is what it's all about and when you make those small changes it can be the difference between having a rail and jumping a clear round.
Who else do you train with?
I use Robin Dumas for the cross-country at Rosamund Green Farm. For Dressage I use Carl Hester and Olivia Oakley. It's my favourite phase and I was actually a bit disappointed he missed one of the flying changes. It was 34 degrees that day so it was really intense to work a horse in that phase. Some horses really felt the heat and actually we hadn't considered that element.
What did you think of the cross-country phase, which seemed to cause alot of problems?
It was a proper 5 star track. My trainer Robin said when you're going around a 5 star you can't expect it to be pretty all the way around. You just have to get round! He was fantastic and he didn't take any mistakes that I made personally.
How did you find Charly?
I found him in Belgium as a five year old. I looked at 200 horses and he was the last I saw. I was meant to be looking at another one and just saw him over the stable door and liked the look. He hadn't even jumped under the saddle so I tried him on the flat and they sent me a video of him loose jumping. He had his first jump with me in the UK.
You met the breeder at Luhmuhlen- what did he say?
I always try to stay in contact with the people I buy horses off. We had to use google translate to communicate. He was so proud. He was even in a newspaper in Germany and he said that it was the greatest achievement of his life having bred Charly.
I have a three year old stallion out of Charley's full sister. He is at Caunton Stud where he will stay until early next year.
You've had to move yards several times in the last year, that must be pretty unsettling?
I had to move all my horses several times. It's really difficult when you don't own your stables. I am now at Julia Norman's which is great. I was even living in my horsebox at stages.
How do you make it all work?
It's not easy. I have some lovely owners but my parents don't have the finances to consistently help me. As the money comes in it goes straight back out.
It was pretty tough and expensive to get out to Luhmuhlen so it was lucky to have some prize money to come home with. I won £33,000 so that is a life-changing amount for me. 
How did you negotiate the logistical problems presented when Germany refused the entry of people from the UK?
We went to Tim Lips for 10 days to do our quarantine in the Netherlands. Together with Tim and Jonelle Price, who were also competing. So it was a really fun atmosphere.
How did you start riding?
I went to a riding school. My parents aren't horsey at all, although Mum is supportive and can muck out but she wouldn't feel confident enough to tack him up or anything.
What is the plan from here?
Charley will have a holiday and then we will make some plans. I will speak to Dickie Waygood (Team GB Performance Manager) and see if we can work out an autumn goal.
---
The Horse Scout team would like to wish Mollie every success for the future.
Interview with Mollie Summerland conducted by Horse Scout journalist – Ellie Kelly.