"There isn't much life outside horses but I've never been one for shopping anyway" confesses racehorse trainer Amy Murphy. A familiar tale among Equestrians. Ellie Kelly caught up with Horse Scout's latest advocate about racing dreams, being a woman in a man's world and unhealthy eating habits.
At 24 years, many young people are still working out what to do with their life but Amy Murphy was already making waves in the racing world. Last August she gained her trainer's license, departed from the security of a job as Assistant Trainer and set up a race yard, becoming the youngest trainer in Britain.  Her first season got off to a phenomenal start with nine winners and 12 placings from just 30 runners.

Training racehorses was the dream from her early pony-mad childhood days. "I was in the Pony Club and did a lot of hunting but I was bitten by the racing bug" Amy explains. I started riding out for local trainers at 15 years old and I became fascinated by the training, buying, management and everything else involved in the industry. I loved the perfectionism and attention to minor details that could be the difference to winning or losing. So I decided that is what I wanted to do."
Amy's racing pedigree is excellent- her father Paul is a highly regarded breeder of Flat and National Hunt horses and she grew up on Whychnor Park Stud in Staffordshire deeply entrenched in the world of racing. "Whenever dad had a runner I was always sick that day so I could go to the races," Murphy laughs. "But Dad was clear with me and told me that I had to get an education before I went into racing."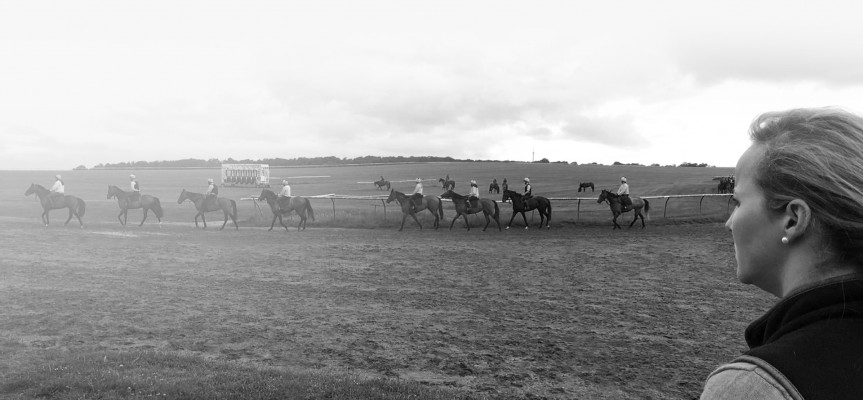 This started at Hartpury College where Amy completed a course in Equine Science. On finishing here she went straight into getting practical experience. "I wanted to learn from the best" she says. This included a job with trainer Tom Dascombe before a winter spent in Sydney with leading female trainer Gai Waterhouse. On her return, Amy was then offered an enviable position as Assistant Trainer to Luca Cumani, arguably one of the best flat trainers in the world. This was followed by a stint with one of the best known National Hunt trainers, Nicky Henderson.
After less than a year training from her base Hamilton Stables in Newmarket, Amy has already amassed 27 horses with 12 owners- a mix of Flat and National Hunt horses. These include a Middle Eastern Royalty and Amy is just setting up an affordable racing club "so people can enjoy the social side without huge outlay" she explains. "It's a small operation at the moment but my dream is to get the business off the ground and eventually be a big trainer with 100 horses" she says "In the short term it's about keeping my horses healthy and fit".
And being a woman in a heavily male dominated world? "It just makes me more determined" she states. "It's certainly never put me off. Although racing is changing and woman are proving they can do it, both as trainers and jockeys."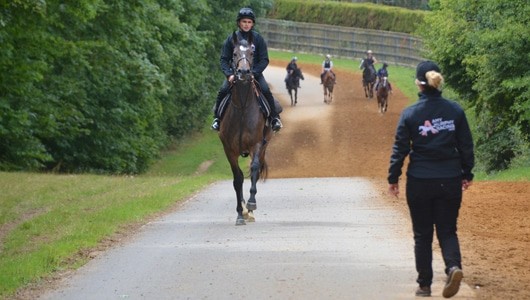 A typical day starts around 5am and finishes around 6pm and Amy rides out on the gallops with the other stable staff. Unsurprisingly, Amy's year round season allows for few days off. "It's seven days a week most of the time but I take the odd Sunday off, which I like to spend with my family" she says.
As well as training and overseeing the day-to-day running of the yard, Amy deals with much of the admin and promoting the business. "Horse Scout will be a great asset to my business in terms of marketing and building up my network" she says.
LAST BOOK YOU READ- AP McCoy's Autobiography.
HOW DO YOU START YOUR DAY- A Coffee with lots of sugar.
GUILTY PLEASURE- Galaxy chocolate. WHAT COULD YOU NOT
LIVE WITHOUT- My Labrador puppy, Milo.
BIGGEST INFLUENCE ON YOUR CAREER SO FAR– There are so many! Obviously all the trainers I have worked for but also my Dad, Paul Murphy. He has been a real mentor, particularly on the business side.
PHILOSPOHY-  You never stop learning. Anywhere I go, I walk in with open eyes.
To find out more about Amy Murphy or her racing club visit www.amymurphyracing.com