The final day at the Dodson & Horrell Bolesworth International Horse Show on Sunday delivered plenty of intense action across all classes, from the ultra-competitive big-money Dodson & Horrell CSI3* Grand Prix, to the fun Fancy Dress Mini Major pairs relay.
The climax of the week came when title partner Dodson & Horrell's 1.50m Grand Prix took to the ring. It was won by Louise Saywell with Kingsborough Kasper, second was Angelie Von Essen on Daniel and third, Robert Murphy on How Easy.
This highly-revered event at Bolesworth has been developed for the best of the best, the one riders aspire to win and is a huge test for both horse and rider. After two rounds of qualification, 50 riders were seeded through to the main event.
The course was designed by world renowned course designer Louis Konickx. Before the start of the class, Louis stated that he was using the event to test a few ideas ahead of designing the course at the World Championships at Herning in Denmark next month. Consequently, the course proved to be challenging, big and technical with a tight time resulting in only three riders going clear in the first round.
The top 25 per cent went through to the second round carrying faults forward from round one. The only three to go clear in round one put in faultless performances to fill the podium, with Louise Saywell leading from the front. She said: "I'm totally ecstatic with Kasper. In his last three or four Grand Prix's he's been double clear and in the top five. He won the last one at Keysoe two star, so this was a big one. He hadn't done a 1.50m, but he's just got such a lot of talent. We always believed he could do it, however, until they are doing it, you never know."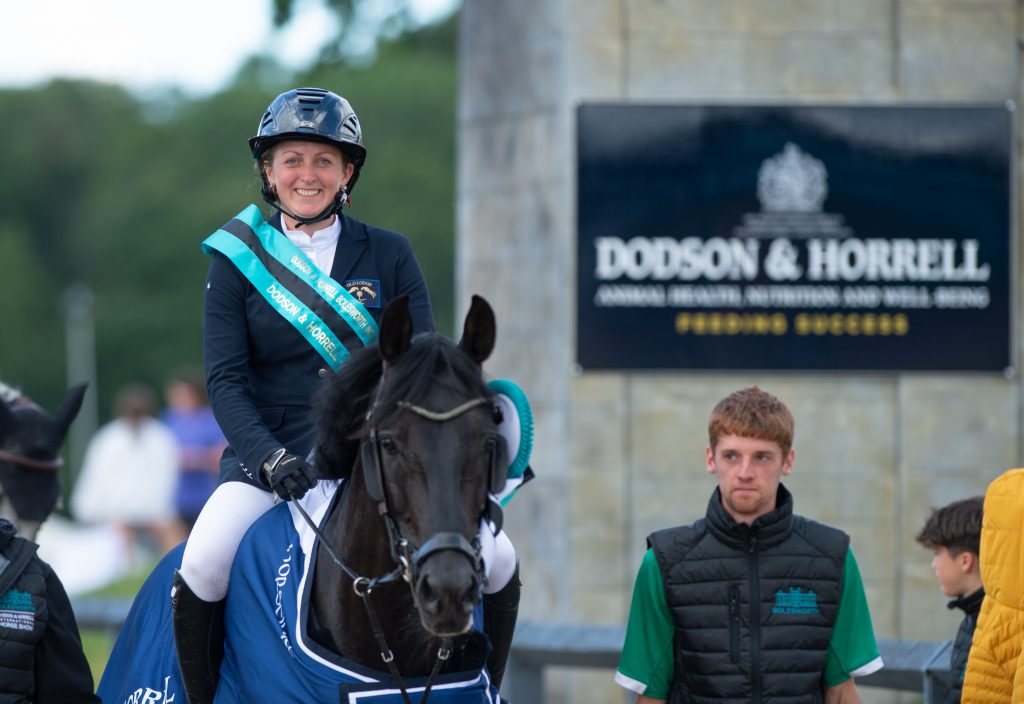 Earlier in the day, Bolesworth's managing director Nina Barbour donned her riding boots and won the opening class on home turf. She won the Röwer & Rüb Amateur 1.25m Grand Prix on her 12-year-old mare Ardis. Nina said: "I'm delighted with my horse Ardis; she is actually owned by my mum, Diana Barbour. She's back from injury which has taken a few years but she's a little star and I'm really happy with her."
The Le Mieux CSI3* Mini Major class has always been a Bolesworth crowd-pleaser and didn't disappoint. Professional and pony riders, all kitted out in fancy dress, engaged in a competition to each complete a round in the quickest time, with the fewest faults. The youngsters thrilled the Bolesworth crowd with their skill and determination and Guy Williams with team-mate Alex Leggott won the class in convincing style.
Elsewhere at the Dodson & Horrell International Horse Show, the Ride & Drive relay on Thursday, headed by England football legend Michael Owen and supported by Lexus Chester, kept the crowd on their feet cheering as the riders and drivers charged around the Bolesworth International arena.
The Science Supplements A-List Auction was presented to an enthusiastic audience on Friday evening, attracting intense bidding. Amazing Luck Z, a stunning 5-year-old gelding by Aganix out of the full sister of Cian O'Connor's top ride Good Luck, topped the Ridden Lot, selling to Ireland for £105,000, while the hammer dropped on the Chacco Blue Yearling Chacornwall JHH Z at £36,000.
It was Ladies Day on Saturday where many hospitality guests took the opportunity to put on their glam rags to win exclusive prizes from the team at Liverpool One. And, throughout the weekend the show took on a family-orientated theme with dog shows, dog agility, pony rides and a Dressage horse simulator among the non-equestrian activities.
The next event at Bolesworth is the Al Shira'aa Bolesworth Young Horse Championships, 10– 14 August. This five-day young-horse showcase will feature additional attractions for the whole family and incorporate the World Breeding Jumping Championship Qualifiers for 2022. International Showjumping will run alongside the classes.
For more information on the Dodson & Horrell Bolesworth International Horse Show and Al Shira'aa Bolesworth Young Horse Championships, visit: www.bolesworthinternational.com
Sunday Day 5 Results Roundup:
Dodson & Horrell CSI3* 1.50m Grand Prix
1. GBR Louise Saywell/Kingsborough Kasper, 2. SWE Angelie Von Essen/Daniel, 3. GBR Robert Murphy/How Easy, 4. GBR Adrian Speight/Millfield Balony, 5. GBR Anna Power/McQueen, 6. GBR Yazmin Davis/Zanbowa Z, 7. GBR William Funnell/Equine America Billy Diamo, 8. IRL Anthony Condon/Sfs Vincomte, 9. GBR Annabel Shields/Creevagh Carisma, 10. IRL David Simpson/Medoc de Toxandria.
Röwer & Rüb Amateur 1.25m Grand Prix
1. GBR Nina Barbour/Ardis, 2. GBR Tony Pearson/Berlin, 3. GBR Dafydd Watkin Jones/Quando de L'Ecuyer
Le Mieux CSI3* Mini Major
1. GBR Guy Williams/Alex Leggott, 2. GBR Jay Halim/Summer Weirzbicki, 3. GBR Robert Murphy/Annabel Widdowson.
Cavago CSI3* 1.35m
1. GBR Harry Wainwright/Pinheiro Beech, 2. GBR Louise Saywell/Sharp Image, 3. GBR Mark Edwards/Ede Peasy.
Al Shira'aa CSI-YH 7-year-old Final
1. GBR James Whitaker/Just Call Me Henry, 2. GBR Louise Saywell/King Blue, 3. GBR James Smith/Wicked Vancouver.
Beaverbrooks CSI YH 5-year-old Final
1. GBR Emma Stoker/Comme Ci, Comme Ca, 2. GBR Drew Walton/Solid Gold Hs Z, 3. GBR Carmen Edwards/Escape The Gossip.
Equitop GLME CSI1* 1.25m
1. GBR Simon Crippen/Billy Kvitfell, 2. GBR Corinne Collins/Dolores P, 3. GBR Charlene Bastone/Jacpot
Horseware Ireland CSI1* 1.35m
1. GBR Joanne McGlory/G. Zara Zing, 2. GBR Eve McCoy/Ella, 3. IRL Ella Quigley/One To Go
JCL Insurance Brokers CSI-P 1.30m
1. GBR Dafydd Watkin Jones/Trevor, 2. GBR Phoebe Farlan/Teach More Joey, 3. GBR Eve McCoy/Moores Pride