The London International Horse Show at Olympia signals a round-up of the equestrian year. This coupled with that festive feel-good factor shared amongst riders and spectators alike, makes it one of the best shows on the European circuit.
This year was no different and it further reinforced the gravitas of Olympia, which first took place in 1907 making it one of the oldest and most prestigious shows on the continent. With seven of the world's top ten show-jumpers competing, including World Number one and two Steve Guerdat and Martin Fuchs. This together with the reigning Olympic dressage gold medalist Charlotte Dujardin plus Carl Hester and the FEI Driving World Champion Boyd Exell, proves the show as one of great significance to the equestrian world. And beyond- Olympia is one of only three British equestrian events still broadcast annually by the BBC.
The show attracted riders from a wealth of nations but in almost every discipline, it was British riders who dominated. With the opening ceremony of Tokyo Olympics less than seven months away, riders have something to prove to selectors. In addition, the end of January is the cut off point for horses to change hands if they are to be campaigned by riders at the Olympics. So you could say Olympia gave us a bit of a glimpse of what may be to come.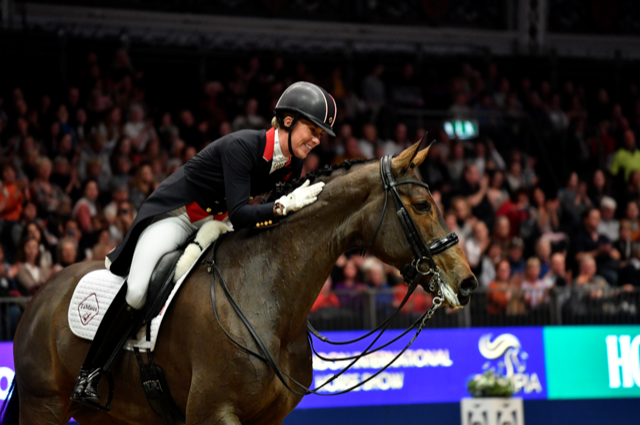 The Dressage World Cup class at Olympia is the only British qualifier for the Longines FEI World Cup Final and it was as hotly contested as ever amongst Britain's leading riders. The top three places in both the FEI World Cup Dressage Grand Prix were filled by Charlotte Dujardin (Mount St John Freestyle) in first, Carl Hester (Hawtins Delecato) in second and Lottie Fry (Everdale) in third. It was something of a deja-vous the following day when the placings were replicated in the World Cup Freestyle to Music.
This was Charlotte's fourth win in the FEI World Cup. Although it was a first with the talented British bred mare by Fidermark, having previously won it and set the record on Valegro. "This was her third ever Freestyle. The crowd felt even closer tonight and it was a difficult floorplan. She really tried and listened to me. I've had my highs and lows this year (referring to disqualification at the European Championships for blood on a flank) and it is great to end the year with such a positive ride."
With the Olympics in mind, judge Andrew Gradner was particularly pleased with the British dressage domination: "These horses are young, so there is more to come. This is my favourite show and judging horses of this calibre here is such a treat."
Olympia is a personal favourite for many leading British showjumpers and whilst there was the notable absence of John and Michael Whitaker from the line-up, Olympic gold medallists Ben Maher and Scott Brash both brought a team of horses and Holly Smith had three.
Whilst the World Cup was won by Swiss rider, Martin Fuchs on Sinner, Scott further cemented his place at the Longines FEI World Cup Final in Las Vegas with a fifth placing on Hello Jefferson. Speaking in the press conference, Scott believes that this could be his mount for the Tokyo Olympics this year. Indeed the 10 year old gelding by Cooper vd Heffink seems to improve in form with each outing. The pair were crucial to the British FEI Nations Cup victory in Dublin back in August which set them in good stead for a team bronze and Olympia qualification at the European Championships in Rotterdam.
Scott pulled off another great display of horsemanship in the final class of the show, The Turkish Airlines Olympia Grand Prix. This time riding Hello Vincent, a recent purchase and previously the ride of Jodie Hall McAteer, the 19 year old British starlet who also had a good show with a win in the Voltaire Design Under 25 British Championship. Scott was notably enthusiastic about the young gelding. "I'm so proud of Vincent- he was amazing. Winning my last grand prix of the year, in front of a home crowd- it doesn't get any better than that."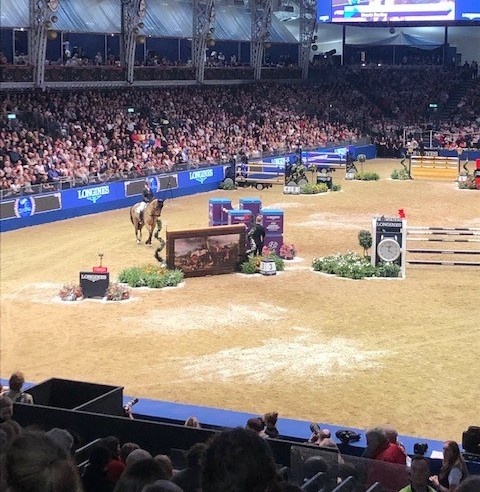 Seven riders made it through to the jump-off and four of them were British. Australia's Edwina Tops-Alexander was the only non-Brit to squeeze into the top four with a second place on brand new ride Identity Vitserol.
Third place went to Holly Smith on Hearts Destiny who has enjoyed her best season yet with a Nations Cup win and the Aga Khan Trophy in Dublin and a bronze medal at the Europeans. Holly enjoyed an outstanding Olympia and took the Leading Rider accolade by an incredible 28 points.
"I'm absolutely delighted with all three of my horses but Heart's Destiny has taken me to places I've only dreamed of. The calibre of riders here at Olympia- seven of the world's top 10- makes it all the more special."
Fourth place in the Grand Prix went to 25 year old James Wilson, a new face on the British Nations Cup team this year. Riding Imagine de Maze, the mare has kept James starry eyed this year. "This horse has made all my dreams come true: my first World Cup, my first Nations Cup and now my first Grand Prix placing. She has catapulted me right up there and now I've got Tokyo in my sights."
So in our humble opinion, and if Olympia is anything to go by, the Brits may have more than just Tokyo in their sights. Bring on the medals!
Written by Ellie Kelly