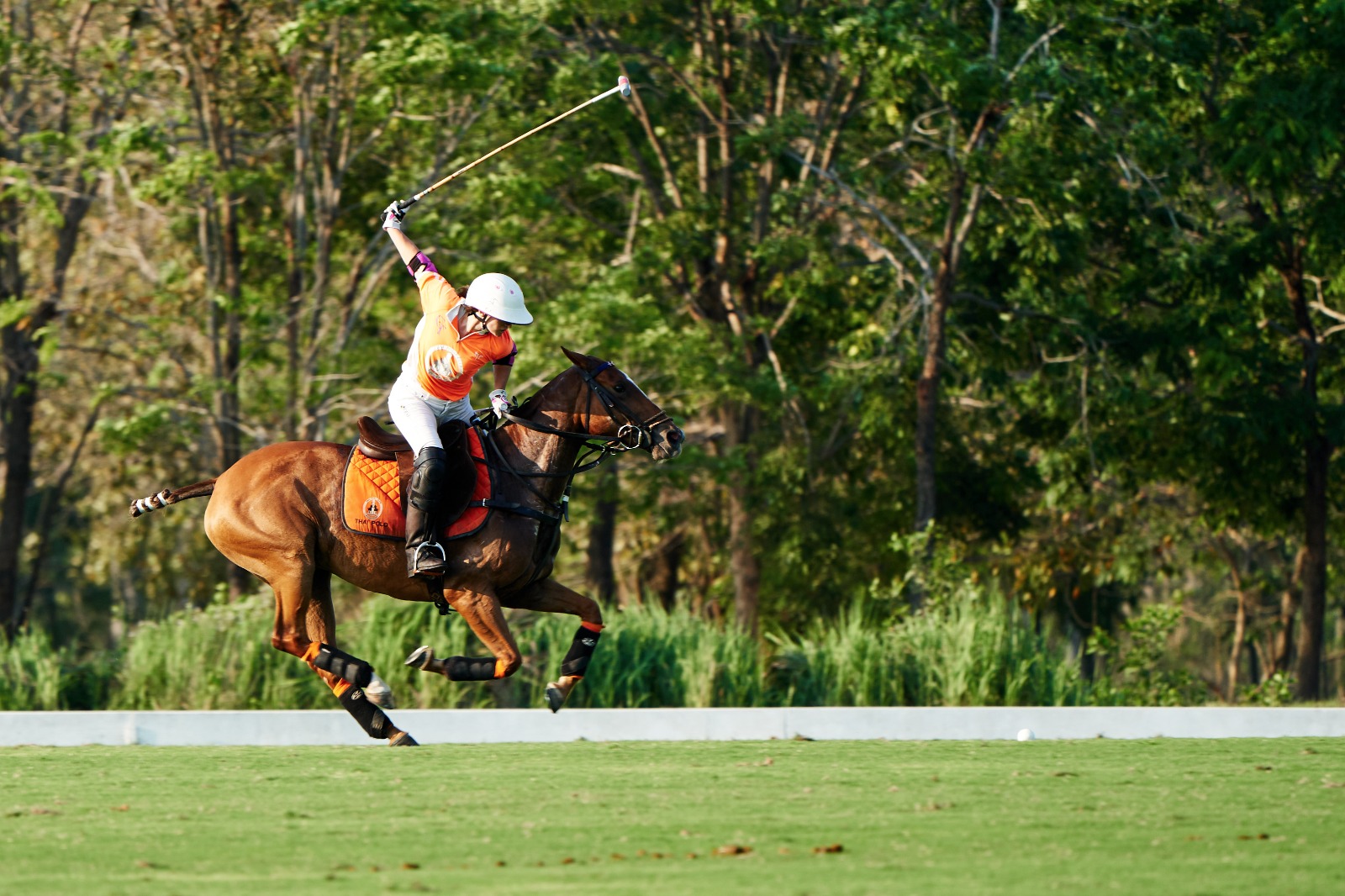 You could say British polo player Hazel Jackson has the world at her feet. The 27 year old  is ranked equal second in the World amongst her female counterparts. She is rated with a nine goal handicap for Ladies and two goal handicap in mixed polo. She has also captained the British Ladies polo team. But far from the VIP lifestyle we envisage polo players to lead, Hazel explains that the reality for her, is somewhat different and even the most talented women are still alienated from the higher levels of the sport.
Her passion for polo started in the Pony Club at just nine years of age. "My family were horsey but it was hunting and point-to pointing, we weren't serious polo players" she says. She grew up in the New Forest, attended the local school and then Brockenhurst College where she qualified as a personal trainer and sports masseuse "After college, I moved to New Zealand for six months for a polo grooming and playing job and then spent every winter in Argentina but I have always worked. I think this has been a good thing though. I'm not sure I would have got this far if it had all been handed to me on a plate."
In order to play full time, Hazel still has to work for her keep and balance the books, despite her impressive accolades and obvious talent. "I have never owned more than four horses myself and base myself with a patron, looking after, riding and schooling their horses and they cover my costs in return" she explains. In the UK, Hazel is based with Roger White and rides for his Coombe Place Polo Team. "I am on the yard every day, schooling and mucking out. I love polo but sadly not all of us are millionaires."
Hazel plays the UK polo season, which runs from May to September. Then she spends October to December playing the Argentine season but is travelling around the world to polo hotspots, throughout the year. Sounds glamorous right? But what this really amounts to, is her days off are spent on a plane or in an airport lounge and often driving a lorry full of polo ponies. "The top pros are paid millions and are flown around the world with their whole families. I have never even flown business class in my life and still haven't found time to take my honeymoon" she laughs.
Hazel got married to Polo Manager Ivan Gaona last September but since their wedding, has spent just two weeks at home. Other than the UK and Argentina, Hazel plays in locations such as Thailand, Barbados, Singapore, America and Switzerland but her favourite place to play is the Club Ampurdan in Barcelona. "I play a tournament over there that is just so much fun. It is a family run club and has a lovely atmosphere."
There have been many highlights so far. "Captaining the England Ladies team in Zambia in 2016 was a amazing. Partly because we have family there and they came to watch. Then in 2017 we made the finals of the first ever Argentinean Open. It is the highest Ladies Tournament in the World, held in Palermo in the middle of Buenos Aries."
Playing in both Ladies and Mixed teams has its advantages according to Hazel. "I learn more from playing with men, it challenges you, makes you work harder and pushes you to your physical limits. But I would never usually be the main player in the team. Then I can put what I learn into practice in Ladies polo. When I am playing Ladies, I am usually running the team so have more responsibilities which I enjoy."
As a woman in a heavily male dominated sport, naturally there are challenges. "It is a brutal game and you get shouted at but everyone gets heated and I can cope with that. What is frustrating is that there is a lack of opportunities to play high and medium goal polo even for the best ladies. You will never see a lady play medium or high goal in the UK, for example, it would be nice to see more girls getting a chance". Hazel explains that whilst many patrons who own the teams, pick men because they are physically stronger, polo is 75% about horse power. So if you are never given access to good horses by patrons, then it is harder to prove yourself.
"To buy a top horse, you would probably need £200,000 and the bloodlines in Argentina go for crazy money It costs millions to run a high goal team. I paid £5000 for my best horse and a lot of my horses have been gifted to me by friends." Like most of us, Hazel favours a certain type of horse. "I like them slightly bigger- around 15.3 hh (polo ponies are notoriously small to allow you to be closer to the ball). They have to be super fast, agile  and quick off the mark to "win the play". But with a soft mouth and they have to be really tough"
Polo is a physically demanding game and of course it comes with risks. "I have been lucky to escape serious injuries but I have fractured my collarbone and had a hole through my lip from a stick. But I have friends who have lost eyes and had falls so bad they have had to retire and of course there have been fatalities." Hazel highlights that protective gear is a must. In a game, she will wear goggles, a gum shield, protective gloves, knee pads and a helmet.
Outside of polo, Hazel says there is a little time for much else but she enjoys Yoga and surfing and her perfect holiday would be a beach one. "I am also starting to do more fitness. During the season, I am playing two or three matches a week so you need to be fit and strong and I want be at the top of my game. The aim for me is to get up to a 10 goal handicap. Then I would love to play in a medium goal mixed game one day too."
"Horse Scout is the complete answer to networking for the future of equestrian. I love working alongside them and it has already opened many new doors for me. Horse Scout is a company which offers so many contacts and platforms throughout the equestrian and horse world. They are always working with new products, the right people and looking to the future for ideas to benefit the horse world in general.
I am excited to see what comes next."
Written by Ellie Kelly