Edwina Tops-Alexander speaks with Horse Scout.  Girl on Top, by Horse Scout press Ellie Kelly./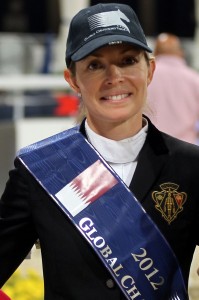 I think I have a girl-crush on Edwina Tops-Alexander…
She is a chick who has nailed it in life. Born with talent and good looks, together with effortless style and the will to win. Then throw in a successful husband and having her first baby at the age of 43, life must feel pretty good.
It widely noted that unlike in eventing and dressage, there is an absence of female riders at the top of the jumping world rankings. Therefore it was particularly significant to see Edwina head the Western European League World Cup Rankings after Olympia especially in a region that is home to many of the most successful riders in the sport. Below Edwina, the ranking list features predominantly men, all the way down to Emily Moffitt who is the next highest female in 27th place as this goes to print.
As we go into the New Year, social media is awash with motivational quotes but one I believe to be true is the notion that "You make your own luck" and Edwina Tops-Alexander is living proof. Born to unhorsey parents in the suburbs of Australia, she took up riding at the age of eight. She joined the Pony Club and her love of show jumping developed throughout her teens. After winning the Australian Young Rider Championships in 1998, Edwina made it her mission to compete against all the best riders in the world. After leaving sunny Sydney where she was a big fish in a small pond, Edwina made a brave move to Belgium where she was virtually unheard of. She took a job working for Ludo Philippaerts and through hard work and determination, quickly made her mark on the European scene. There she met her husband, Jan Tops, the former international rider and founder of the Global Champions Tour.
Today Edwina is one of the most successful showjumpers in the world, dominating the world rankings, competing at three Olympics and four World Games. The Australian beauty is seen as a style icon in the equestrian world- with an entire riding wardrobe designed by Gucci and reinforced by the 78.5k followers she has on Instagram. Earlier this year Edwina announced she was taking a break to have a baby with her husband and on 31st July, Jan and Edwina welcomed a daughter Chloe, to the world. Just over a month after giving birth, Edwina returned to the ring.
It was not long before Edwina was back to her winning ways. In December, she was beating the boys in the seventh leg of the FEI World Cup at La Coruna, Spain, partnered by the super little mare, California. Then it was off to the London International Horse Show at Olympia where she finished in third place on Inca Boy van T Vianahof. This a nine year old horse and only their sixth show together as she has only been riding for two months. He was produced in Britain by Tim Wilkes. It was this result which then placed her at the top of the Western European league in the Longines FEI World Cup Series.
We caught up with Edwina at Olympia about whether being a mother had altered her outlook on sport and in life.
"Yes life has changed. I don't worry about things, except for worrying about Chloe I guess. It did me good to have a bit of a break. It's hard to do this sport and go every week and stay on top. There is a lot of pressure involved to stay in the rankings. So it actually gave me an opportunity to have a bit of a break from competition. It's a great feeling to be a mother" she explained.
"I think it's also positive for other women to see that you can come back to sport and it doesn't have to hinder your lifestyle and your goals" she says.
So maybe Edwina is a sign of the changing times and proof that with grit and determination (and a decent baby sitter) women can have it all.