---
The British trio of Oliver Townend, Laura Collett and Tom McEwen rewrote the history books by becoming the first British eventing team to win Olympic gold since 1972. All three riders played their part in taking the title with a comfortable lead, with solid performances in each discipline.

---
Julia Krajewksi also made history by becoming the first female rider to take the individual Olympic title riding her lovely mare Amande de B'Neville. When the Games last took place in Tokyo back in 1964 the USA's Lana du Pont was the first woman to compete in the three-day event, so female firsts and the Tokyo Olympics seem to be intertwined.

The 32-year-old German rider has had a really tough year, beginning with the passing of her father and then having to retire her top horse Samurai du Thot after he had his eye removed due to an infection. The Tokyo 2020 Olympic Games seemed an impossible target after that, but when the young mare she calls Mandy won the CCI4* in Saumur, France and the pair took bronze at the German Championships in the spring, then suddenly the horizon was completely altered. Now, 20 years after winning her first Pony title for the German team, now she is an Olympic gold medallist.

"It's the stuff that movies are made of, and yes I cried, because I was thinking of my family and my father and basically everyone who has been behind me. This is very much a fairytale finish for me!", she said.
---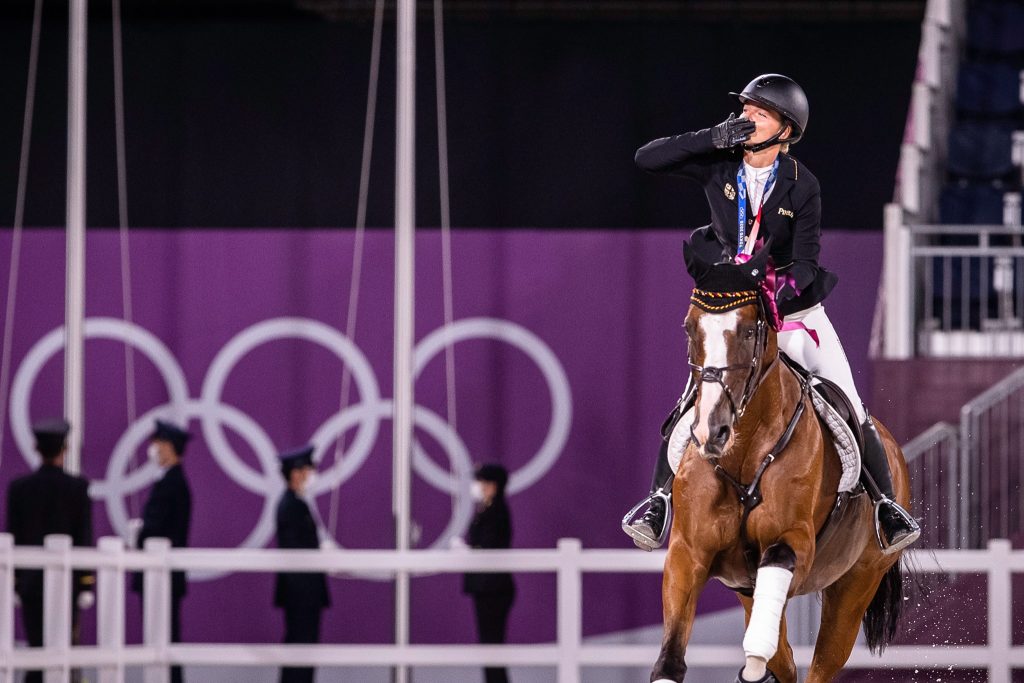 ---

In the battle for the remaining Individual podium places it was Britain's Tom McEwen who took the silver while Australia's Andrew Hoy clinched the bronze. After Oliver and Laura faulted again in the second round to put them out of contention for a medal. Hoy's result was particularly impressive, because the three-time team gold medallist has now participated at eight Olympic Games dating back to Los Angeles
in 1984. He was only 25 years old then, and today at the age of 62 he's as fearless and competitive as ever.

Tom at 30, is half the age of Andrew and looks set on a long road of future medals, while Andrew was keen to declare that he's not hanging up his boots anytime soon.

"When I started in the sport I was really proud of being the youngest person in the team and now it's just an absolute joy that I'm still here and so healthy. When people meet me in the Olympic Village they say, you are an official are you? And they look a bit surprised when I say no, I'm an athlete!"
---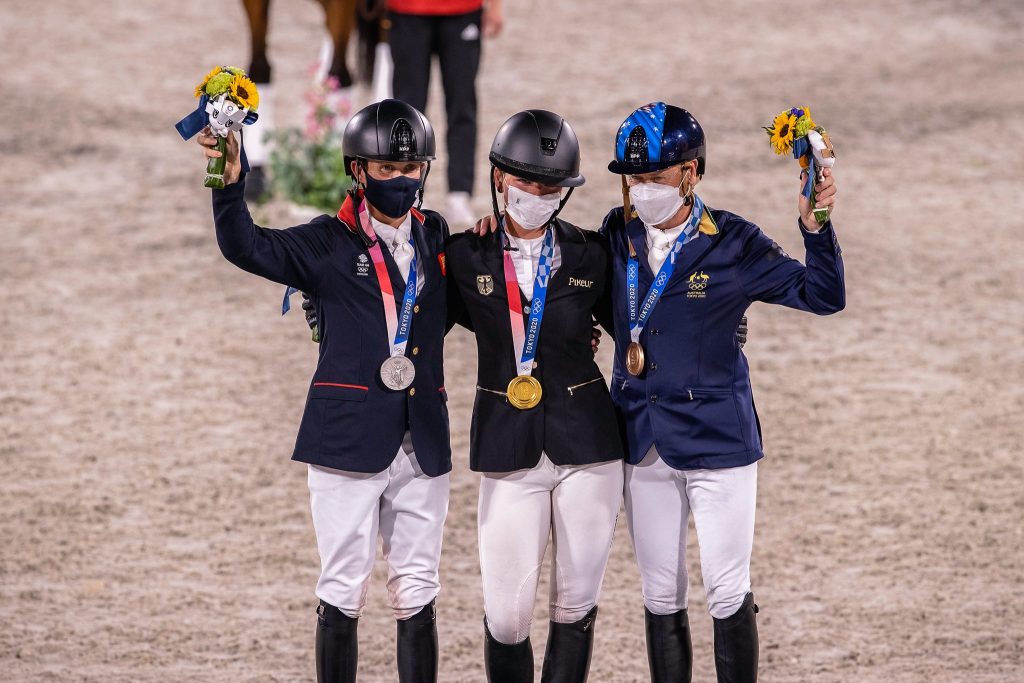 ---

In the team competition Tom paved the path to the British team victory with a superb round from Toledo de Kerser. A four-fence advantage and more after the previous day's cross-country test had left the Brits sitting comfortably ahead.

"He was incredible", he said of the horse, "I just put him on the spot and he was up and away. Everyone that follows Eventing knows he's a great jumper so it's just up to me on top", he added.
---
Laura had a scary moment when London 52 baulked at the water tray at fence four and scattered poles everywhere but his talented rider gathered both their nerves.

"He started like his normal self but just as I came around the corner the light shone on the water and he suddenly started to draw back and I was quite far off it and he just went up and paddled. I was lucky he's such a great jumper and it didn't faze him and he got it back together and finished really nicely. I'm gutted and it's a shame but I think it could have been a whole lot worse! I just hope I haven't put too much pressure on Oliver", she said.
---

Oliver Townend was heading the Individual rankings going into the closing stages after a sensational run in both Dressage and Cross-Country with Ballaghmor Class. The first element of the double at fence nine, four fences from home, hit the floor but that still left Team GB finishing on a score of 86.30 and under no threat from their closest rivals.
---

The real fight for medals was between Australia and France, but the Ozzie's
eventually clinched the silver with two clears from Kevin McNab and Andrew Hoy but the two sides were separated by just 1.3 penalties.

Oliver Townend summed up the feeling in the British Camp. "It's very unreal and hasn't sunk in yet but at same time we were three riders on exceptional horses and that's what's been so special. All three of us have been on horses of a lifetime and we knew that coming here we had a very good chance. Looking back at the whole week I feel relieved and very proud of the whole team, not just the people here, but the whole team at home, people who put in the hard graft every day – they deserve this as well."
---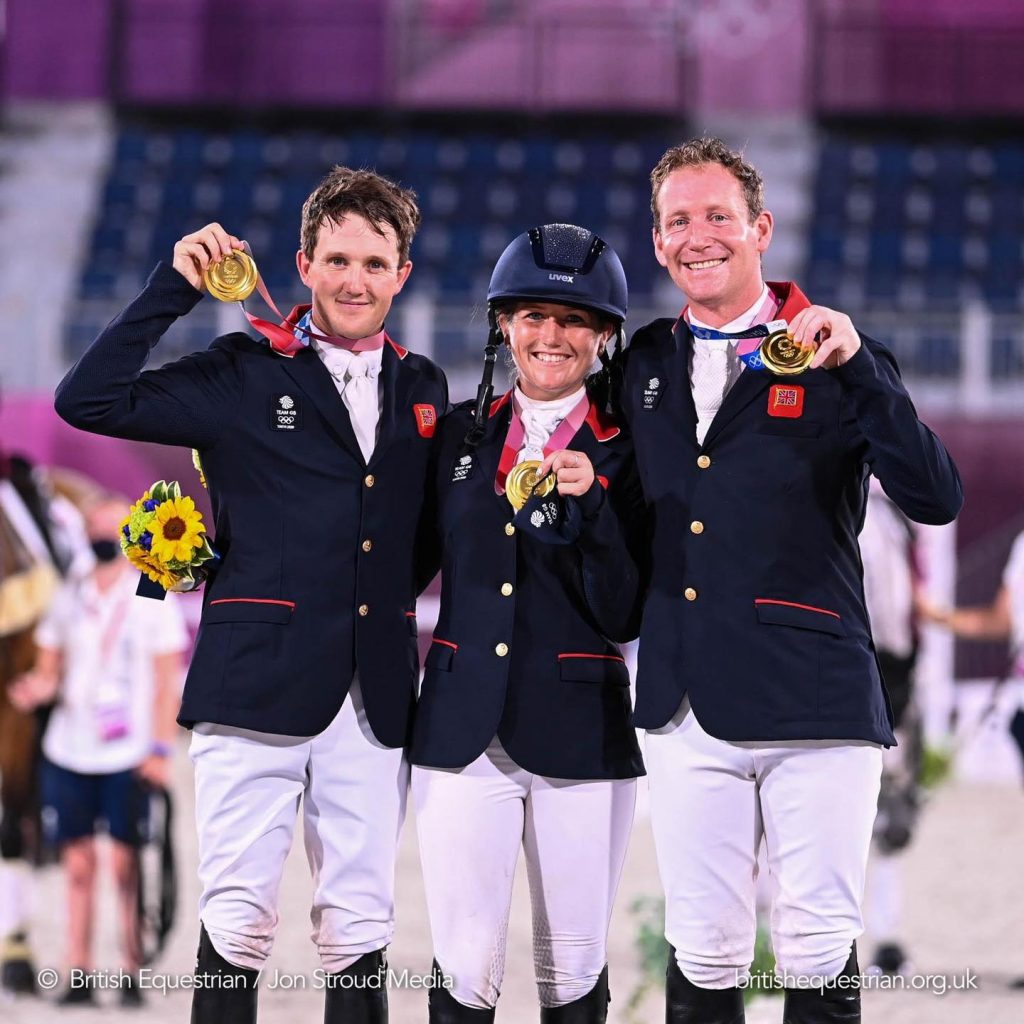 ---
Written by Horse Scout journalist Ellie Kelly.
Photo credits – FEI