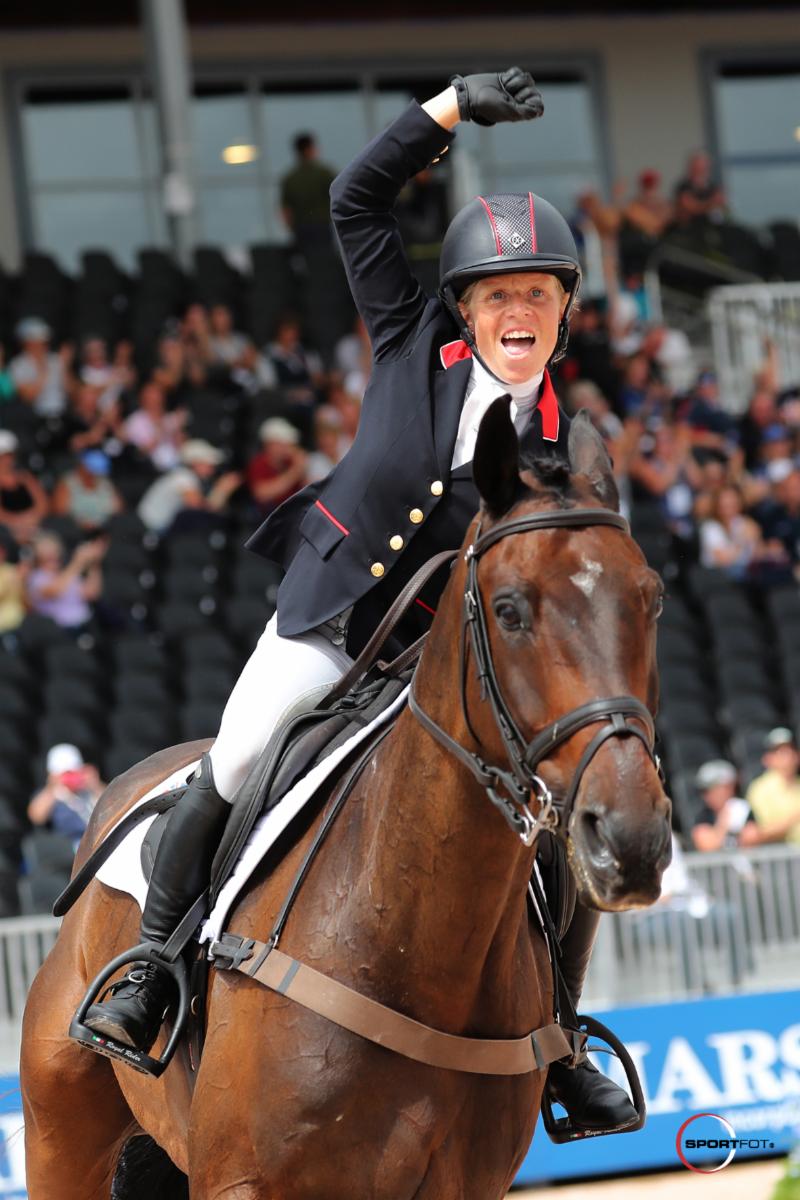 Great Britain wins team Gold
Ros Canter and Allstar B wins Individual Gold
Great Britain scores the lowest team score in world championship history
Great Britain qualify for the 2020 Tokyo Olympics
Four British athletes finish in the top 20
"Our primary objective coming here was qualifying for Tokyo and our next objective was to win as many medals as possible and we have achieved both" said Performance Manager for the British Eventing team, Richard Waygood. "It's been an amazing day in the office. They all went in there for the team and stuck to the system."
The final day of the eventing competition at the FEI World Equestrian Games in Tyron was one of high dramas. The showjumping phase was postponed from Sunday to Monday after heavy rainfall. Yet despite an extra day of recovery, the showjumping caused problems throughout the field and a big shake-up in the order.
Ros Canter must have felt enormous pressure as the final rider for Team GBR, with Britain in the gold medal position. She had no margin for error if she was to win an individual medal and only one fence in hand to take the team title. A text-book clear round from the Lincolnshire rider not only secured Great Britain as World Champions, but also confirmed an individual medal for Ros, and team Olympic qualification for Great Britain at Tokyo 2020.
The overnight leader for the individual medals, Ingrid Klimke, also had no room for error on SAP Hale Bob OLD. As they approached the final fence after a promising round, it looked almost certain that the individual gold was going to Germany, but the crowds' cheers turned to gasps as a pole on the final fence fell and the individual title went to Ros.
Speaking after her round, a slightly shell-shocked looking Ros said; "I don't think it's sunk in. I can't believe it; Allstar B was absolutely amazing, he was an absolute hero, I had an amazing experience in there. I kept saying [to myself] just let him do his job, and I'm so proud. There were quite a few tears when I found out which isn't normal for me."
Ros paid huge credit to her support team. "The team around us is just phenomenal. They make the dream come true really."
In the team competition, Great Britain headed into today's showjumping with an 8.2 penalty advantage – or just two fences – over Ireland, and, after two clear rounds from Ireland's team riders, the pressure mounted on the final three GBR combinations. After their incredible pathfinding cross country on Saturday, West Sussex's Gemma Tattersall got Britain underway in the showjumping phase, picking up 12 faults on The Soul Syndicate's Arctic Soul.
Tom McEwen, who is based at Gatcombe Park in Gloucestershire, was next in for the team and took an unlucky four faults from an otherwise impressive round on his own, Jane Inns and Alison McEwen's Toledo de Kerser. Their completion score of 32.4 penalties meant that the gap between the team gold and silver had closed to just four faults with two team riders left to show jump.
The penultimate rider for GB, Northamptonshire's Piggy French, also picked up four faults on Jayne McGivern's Quarrycrest Echo in the final showjumping combination on course, which reduced GBR's advantage to just 0.2 of a penalty. Ireland's final team rider, Sarah Ennis, headed into the final phase in individual bronze but an early fence down on Horseware Stellor Rebound dropped them out of the individual medals and also increased the penalty gap between team silver and gold back to four. After Ros' brilliant clear round the team gold was secured for Great Britain with a score of 88.8, Ireland took team silver on 93 and France bronze with a score of 99.8.
Tina Cook who was going as an individual on Elizabeth Murdoch and Keith Tyson's, Billy the Red, rounded off their championships with a clear round. This pulled them up to finish in ninth place individually and second best of the British riders behind Ros on a score of 31.5 penalties.
Roll on Tokyo!
Written by Ellie Kelly