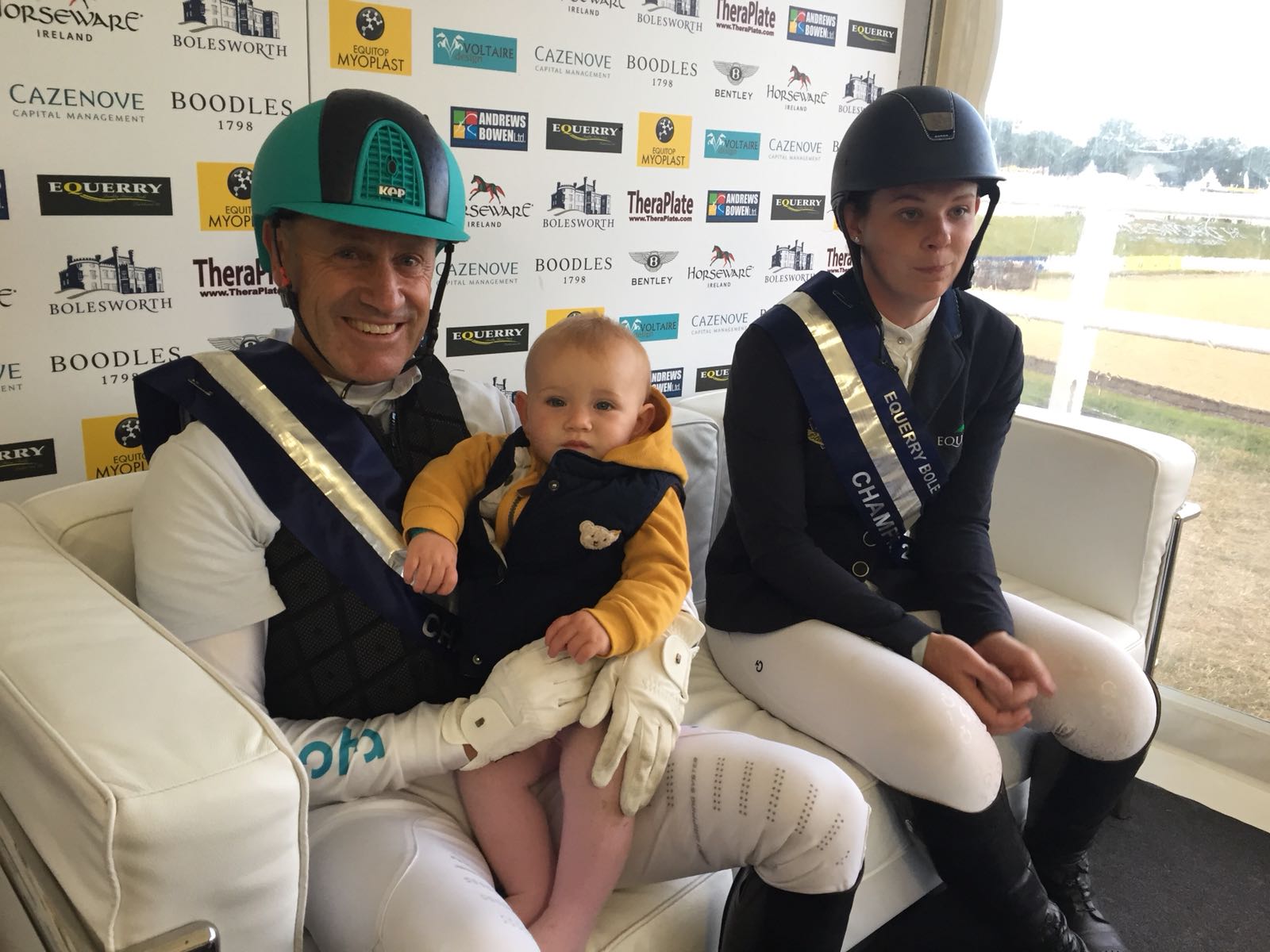 "I've had a new lease of life since becoming a father" said Andrew Hoy after winning the Eventing Grand Prix at Bolesworth  International Horse Show. This fiercely competitive pairs competition, sponsored by Cazenove Capital involves showjumpers and eventers joining forces in a thrilling dual sport competition. Andrew's showjumping partner was Beth Vernon, who left all the rails up in in one of the fastest time, before Andrew completed a short course of arena cross-country fences on to three show jumps to finish. The competition attracted a number of prolific showjumpers and eventers including Chris Burton, Tom McEwen, Alex Hua Tian, Matthew Sampson, Joe Clayton and Harriet Nuttall.
Andrew a seven time Olympian, belied his 59 years by storming around the challenging course in the fastest clean round, on Cheeky Calimbo, the horse he has ridden at four star level. "He's cheeky by name and cheeky by nature" he said after his round, with his 10 month old daughter Philippa sitting on his lap. "I picked him for this class as he is a great jumper and I know him so well. It was a really exciting competition but it was really difficult having to show jump at the end after you have galloped across-country."
Having won four Olympic medal- three gold and one silver, Andrew is one of the most successful event riders of all time. Yet we have not seen as much of the Australian rider at top level in recent years. He explained that he has been quietly working away in the background, producing some new horses. "I have a maximum of 15 horses now and a new generation of horses coming through."
There is one in particular that he is excited about. A nine year old called Vassily de Lassos, who he bought from French International rider, Thomas Carlisle. "I've only had him 12 months and when Tom told me about him, he explained that he needed a pony (for company) and was a weaver, so I wasn't particularly keen." When Andrew sat on him, he still wasn't particularly impressed. "But I kept looking at his record which was exceptional. Since 2013, he has only had one showjumping rail in FEI events."
Andrew views him as a horse for the World Equestrian Games later this year and is hoping to run him at Aachen this summer to impress selectors. The impressive French bred horse is by the prolific stallion Jaguar Mail and finished 8th at Blenheim CIC 3* for 8 and 9 year olds. "I couldn't be more excited for the future with this truly once in a lifetime horse" he said.
So no sign of hanging up his legendary boots any time soon then.  "I might be getting older but I am enjoying eventing even more" he smiled.
Written by Ellie Kelly