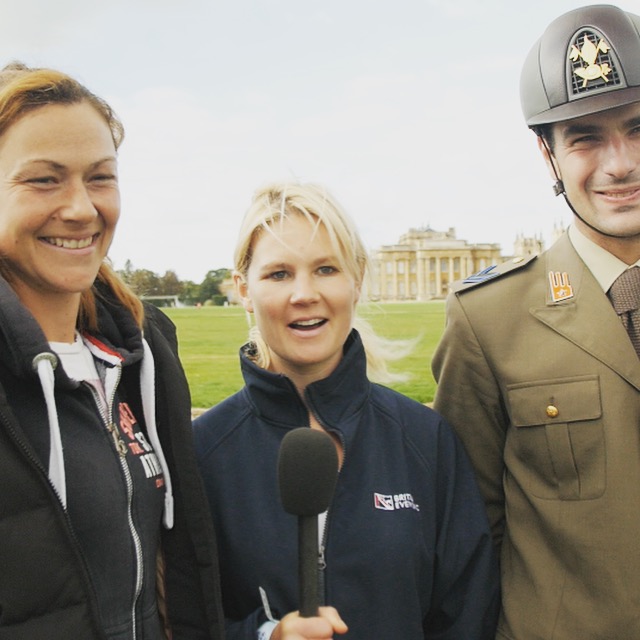 Badminton build-up Giovanni and Kathryn
"I would rather win Badminton than any other event in the world" reveals international eventer Giovanni Ugolotti. "There is a feeling that no other event has, even the World Championships or Olympics and for Kathryn and me, it is what we have been dreaming of from childhood."
With team appearances at the Olympics, World Games, European Championships, the Pan-Am Games and a number of CCI4* events between them, you could say that Kathryn Robinson and Giovanni Ugolotti are eventing's "power couple". Together they run Cranford Stud, an eventing and training yard in Gloucestershire and are both planning to compete at Badminton 2018. Horse Scout are giving away a prize for two people to walk the Badminton course with Kathryn and Giovanni and discover their trade secrets.
Giovanni started eventing in his native Italy and finished 4th in the Italian Junior Championships in 1999. He rode for the Italian Army Equestrian team from 2002 until 2007 before arriving in England in May 2008 to work for Andrew Nicholson. This was followed by a stint riding young horses for Tristram Owers. He quickly made his mark on the British scene taking 1st and 2nd at Hartpury CCI1* in 2008. In 2010 he finished 12th at Pau CCI4* and has competed at Badminton on three occasions.
Kathryn was born in Canada to a British father and Canadian mother but has been based in the UK for most of her life. The daughter of unhorsey parents, she began riding at her local riding school and was an active member of the Woodland Pytchley Pony Club. Kathryn didn't take up eventing properly until she was 19, whilst working for international eventer Sam Albert.
Kathryn admits her career would not have been the same without her ride of seven years, Let It Bee. A horse she bought from Germany simply as an amateur horse but with whom she has scaled the highest level. The pair have competed at Badminton, Pau, The Pan Am Games and the Rio Olympics. Kathryn is hopeful for a good placing at this year's Badminton, having jumped a double clear at her first attempt here in 2016.
So what do you need to excel at Badminton? "You need a partnership with your horse" explains Giovanni. "And your horse needs to be at the top of his form that weekend. You can have very good horses, capable of winning but if they are having an off day or are not at their peak for those four days then you are not going to win. You need a bit of luck" he says.
Kathryn and Giovanni will walk the Badminton course about four times. "The first impression doesn't usually change too much and it is certainly a course that doesn't get any smaller each time you walk. In fact, with Badminton I find that the more you think about it, the bigger it seems" he smiles.
Giovanni and Kathryn have a healthy working relationship rather than a competitive one. "We try to help each other" says Giovanni. "Kathryn helps me a lot in the dressage and I try to help her in the jumping. Sometimes we bump into arguments like every couple does. Luckily we like completely different kinds of horses, so it works out quite well."
During the winter Kathryn likes to keep her eye in by riding out racehorses for trainers such as Ben Pauling and Alan King. Whilst Giovanni prefers to capitalise on the downtime, returning to Italy to see family. He is an ardent football fan and supporter of AC Milan.
Life on the yard is pretty busy so during the season, there is little time for other hobbies. "There is a lot of paperwork involved with running an equestrian business" explains Kathryn "Although we sometimes go to the gym after we have finished riding the horses".
For 2018 they have some exciting young horses coming through, but good result at Badminton is vital for both riders as it will help their chances of team selection for the FEI World Equestrian Games in Tryon in September 2018.   

Written By Ellie Kelly